A Step-by-Step System That'll Have You Taking the Back Like The Pros
Getting to someone's back in a BJJ match gives you a HUGE advantage.
More black belt matches end with chokes from the back than any other kind of submission, making back control the king of positions in jiu-jitsu.
But getting to the back can be super difficult, especially when your opponents get wise to your regular techniques.  You need to mix things up and not be predictable.
Rolling backtakes are a family of techniques that teleport you onto your opponent's back almost instantly. These are highly effective, difficult to stop, competition-proven moves that are regularly used by many of the top competitors active today.
In Rolling Backtakes for Everyone, you'll learn exactly how to take your opponent's back from everywhere using our simple to learn, easy to do rolling backtakes system.
These techniques look spectacular, but with the right methodology, doing them is as simple as a shoulder roll.  If you can do the basic jiu-jitsu warmup, then I guarantee that you can hit this move!
Add this brand new instructional by Stephan Kesting to your arsenal and prove that highlight reel moves are within your grasp.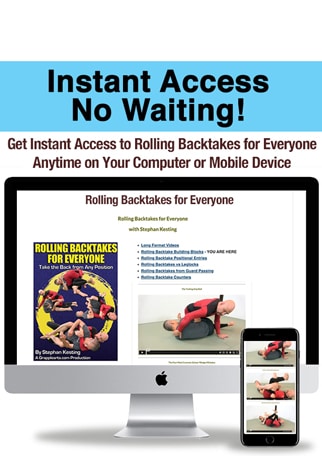 Instantly access to the Rolling Backtakes program online on your computer, smartphone or tablet.
ON SALE $127 (Regular $147)

Get Rolling Backtakes for Everyone on physical DVDs with free shipping worldwide
ON SALE $147 (Regular $177)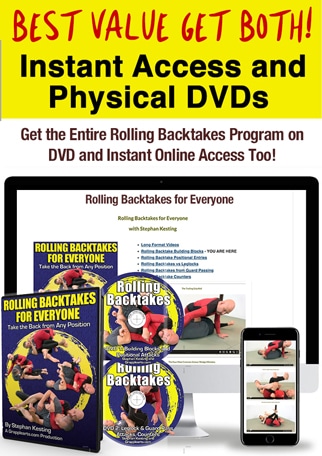 Best value: get instant access online AND the physical DVDs with free shipping anywhere in the world.
ON SALE $147 (Regular $324)

---
Jiu-Jitsu is Changing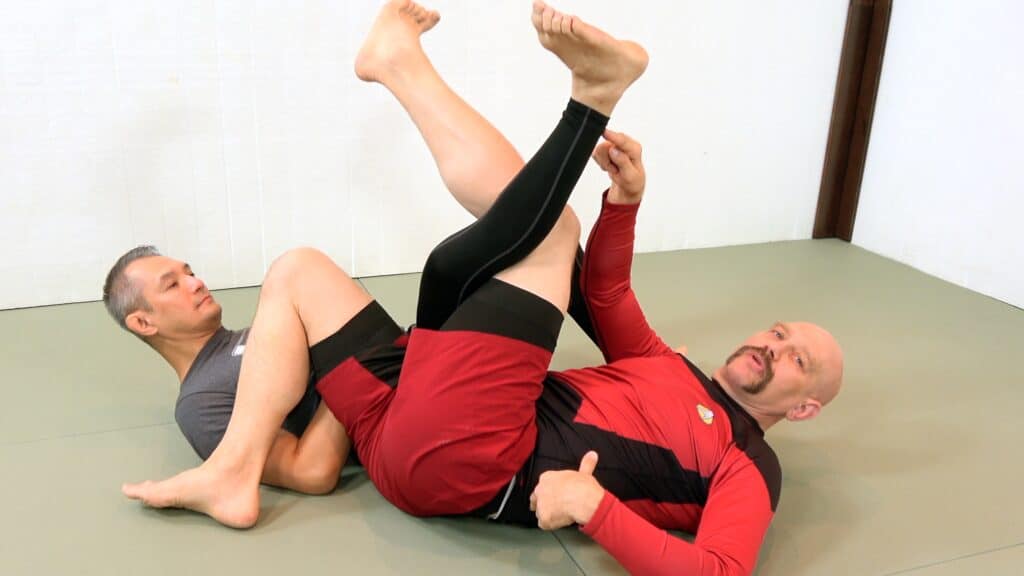 Rolling backtakes are here to stay, and if you ignore them you risk being left behind in this constantly evolving sport.
Recently rolling backtakes have been THE way to take the back in high level competition. If you watch world-class grapplers like Mica Galvao, Craig Jones, and the Miyao brothers you'll constantly see them diving for the back, confident these techniques work against their incredibly tough opponents.
Now it's true that some flashy moves done at the elite level just aren't accessible to human beings. They might require too much flexibility, explosiveness, or athleticism for the average practitioner to pull off.
But the rolling backtake is NOT a particularly difficult move.
In fact, white and blue belts are now regularly using rolling backtakes in class and in tournaments, proving this move is accessible to almost everyone.
You don't need flexibility or amazing athleticism to make rolling backtakes a reliable part of your game; you just need to know HOW and WHEN to do them…
---
Rolling Backtakes are Everywhere

Rolling backtakes are the ultimate Uno reverse card; one moment your opponent is fighting for position, and then next – BOOM – you've turned the tables and are glued to his back.
And these techniques aren't just limited to static positions…
For example, if one of those new-fangled leglock guys spins into a leg entanglement then no problem: hit them with a rolling backtake and choke them out.
Or maybe you have a training partner whose guard you just can't pass?  Well, it's time to flip the script on them! These rolling backtake gets you past their legs, and puts you into a super-dominant position where you can end the match immediately.
Rolling backtakes are such a versatile tool, and nailing your training partners with them will leave you energized and excited after training.
Practice the simple drills and exercises in Rolling Backtakes for Everyone and I promise that you'll start seeing opportunities to dominate your opponent everywhere!
---
Shock Your Training Partners
It's easy to get trapped in the same predictable cycle with a training partner. You go for the same old guard pass… he clamps down on you the way he always does… and then you spend the rest of the round in a stalemate.
Getting stuck sucks, and the answer is to hit them with something new. And it's even better if it's something they don't expect and something that they don't think you can do.
Guard passes and rolling backtakes work hand-in-hand to make you better. For example, threaten the guard pass and then take his back. Or work towards his back and then pass directly to mount. Or just tap him out with one of the many submissions that are available to you en route.
Mixing things up will force your opponents to respect your guard passing game and top games.  
You'll learn how to do all of this and more in Rolling Backtakes for Everyone.
---
Who Is Stephan Kesting?
My name is Stephan Kesting, the guy with the handlebar mustache.  I'm the producer and teacher of Rolling Backtakes for Everyone.
I'm a BJJ black belt and have been doing martial arts for over 41 years, including many grappling arts like sambo, judo, submission wrestling and shoot wrestling.
I've been teaching online for a long time. My Youtube BJJ videos have over 67 million views, I've sold tens of thousands of instructional DVDs and apps, and millions of people have visited my Grapplearts website.
In Rolling Backtakes for Everyone I'm going to give you a system for taking the back from everywhere.  You'll learn it all: the mechanics, the details, the tricks, and all my best setups and finishes.
You're going to come away from this with a whole new bag of tricks that you'll be able to deploy on your training partners!
If you do BJJ and want to tap more people out then grab this instructional right away. I endorse it completely and guarantee it 100%.
---
I Didn't Think I Could Do It…
I used to think that rolling backtakes were out of reach. They looked cool, but I'm in my mid-fifties… and have a hip replacement… and have a lifetime of other accumulated injuries… and I'm not nearly as flexible and athletic as I was when I was young.
(I've been doing jiu-jitsu a long time, and have a LOT of mileage on my body.)
But in the last couple years rolling backtakes EXPLODED.  Everyone was doing them from every position, in both gi and no gi grappling.
With their skyrocketing popularity I figured I had to learn the basics of rolling backtakes so that I could counter them. After all, the very best way to learn how to defend an attack is first to learn how to do that attack yourself.
My first few attempts to hit these moves were complete failures.  All I did was trade good top positions for getting smashed on the bottom. No bueno!
It took almost a whole year, but eventually rolling backtakes started clicking for me. Not only was I able to counter these techniques, but with the right cues and details rolling backtakes were actually incredibly simple to hit.
Since then I've taught these moves to people in their 50's and 60's.  I worked with grapplers who were absolutely certain they couldn't do these moves who came away from their session super-exited about hitting it on their training partners.
And once – as an experiment – I even taught rolling backtakes to a bunch of white belt beginners and by the end of the one-hour class every single one of them was rolling onto the back like a pro.  
The secret to doing rolling backtakes is having the right details, progressions, and training methods.  Learn them correctly and you definitely CAN use these moves even if you have ZERO flexibility.
---
What's Covered in Rolling Backtakes for Everyone?
Rolling Backtakes for Everyone is organised so that you can apply the material in sparring and competition as soon as possible. Here's a quick overview of the topics covered…
Volume 1, Rolling Backtake Building Blocks
Why Rolling Backtakes are for Everyone
How to Shoulder Roll for the Rolling Backtake
The Four Leg Wrestling Entanglements
The Bolo Hook and Scissor Wedge Mechanism
The Best Position for Learning the Scissor Wedge Backtake
The Trailing Grip Roll
The Four Most Common Scissor Wedge Mistakes
The Twister Hook Mechanism
The Best Position for Learning the Twister Hook Backtake
The 4 Most Common Twister Roll Mistakes
Critical Rolling Backtake Concepts
Volume 2, Rolling Backtake Positional Entries
Rolling Backtake from Side Mount
Rolling Backtake from 3/4 Mount
Rolling Backtake Vs the Turtle
Leg Bundle Backtake from Mount
Rolling Backtake Reset for Rear Mount
Rolling Backtake from the Omoplata
Rolling Backtake from the Kimura
Volume 3, Rolling Backtakes vs Leglocks
Rolling Backtake vs The Single Leg X Guard
Abbreviated Rolling Backtake vs The Single Leg X Guard
Backstep & Rolling Backtake vs The Single Leg X Guard
Rolling Backtake vs Outside Ashi
Rolling Backtake vs The 50/50 Guard
Rolling Backtake vs The False Reap
Rolling Backtake vs The 411 Position
Volume 4, Rolling Backtakes from Guard Passing
Rolling Backtake vs Butterfly Guard
Rolling Backtake from Leg Weave Pass
Rolling Backtake from The Folding Pass
Rolling Backtake from the Leg Drag
Volume 5, Rolling Backtake Escapes and Counters
You Shall Not Roll
The Slytherin Escape
The Roll-Through Escape
Over The Top
Reversing The Twister Hook
Situational Sparring for the Rolling Backtake
---
Your Rolling Backtake Guarantee
If you want a super-cool and highly effective strategy to add to your arsenal then grab this instructional right away. I endorse it completely.
In fact I'm so confident that you'll LOVE Rolling Backtakes for Everyone that I endorse it with a 100%, no wiggle-room, zero hassle money back guarantee.
Here's the deal: grab this instructional, train the material, and if you don't hit a legit rolling backtake in sparring within 30 days of training this material then I'll give you all your money back.
Nobody else backs up their instructionals like this, but I don't care.  I don't want to "trick" you into buying something that isn't useful. I've been running Grapplearts since 2002, and would rather keep you as a satisfied friend than an unhappy customer.
Check out this instructional with confidence that it's going to work, or all your money back. It's really that simple.
Stephan Kesting
---
Grab Rolling Backtakes for Everyone at the Links Below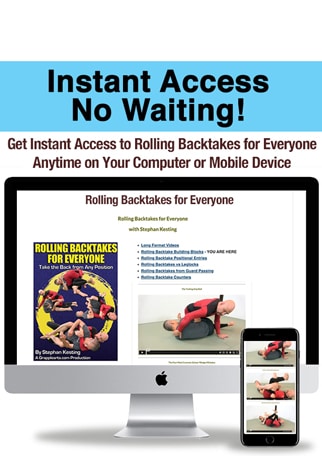 Instantly access to the Rolling Backtakes program online on your computer, smartphone or tablet.
ON SALE $127 (Regular $147)

Get Rolling Backtakes for Everyone on physical DVDs with free shipping worldwide
ON SALE $147 (Regular $177)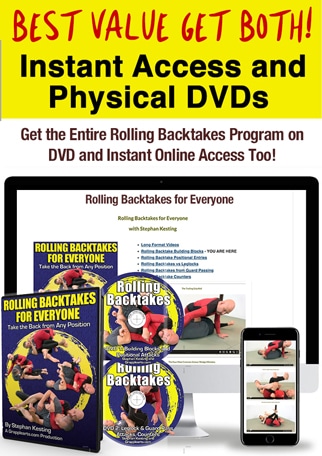 Best value: get instant access online AND the physical DVDs with free shipping anywhere in the world.
ON SALE $147 (Regular $324)