THIS ITEM IS CURRENTLY ON SALE FOR A SHORT TIME ONLY!
Check Out the Preview
After 2 decades of research, experimentation and development my latest instructional, Omoplata 2.o, is now available!
This is the ultimate guide to the omoplata, and it's available as a 5 disk DVD set, as an online streaming instructional, and in app format as well.
You'll get a complete step-by-step system for the omoplata, not just a bunch of random techniques.
You'll learn entries into the omoplata from every position, how to finish bigger and stronger people with it, how to seamlessly transition into sweeps and other submissions, and exactly how to completely shut down all of your opponent's omoplata escapes and counters.
The Most Versatile Submission in Jiu-Jitsu
The omoplata is the Swiss army knife of grappling.
At it's core it's is a super effective submission that has been used many times at the highest levels of Brazilian jiu-jitsu, no gi submission grappling and even in MMA to finish tough, resisting opponents.
The cool thing is that the omoplata it's also one of the most powerful sweeps in the jiu-jitsu repertoire. Many black belts find that it's the most effective and reliable way to reverse the position and get to the top against high level opponents.
Finally it's also an amazing setup for many other other submissions and transitions. So long as you know what the other guy is likely to do and have pre-prepared answers for those responses you'll always be a step ahead of him.
The key is understanding this technique as a system and not as a single isolated submission
In 5 DVDs and 7 volumes of material you'll learn my complete system for making this attack a cornerstone of your game.
This instructional contains more than 182 techniques, including…
Over 41 effective setups and entries for the omoplata from every position
15 counters to the omoplata
70 counters and followups to use when our opponent tries to escape
Techniques that work with and without the gi
The strategies that connect all these moves together and make them easy to remember
Drills and developmental exercises to make the techniques natural and instinctive
And much more…
---
Order the Physical and/or the Digital Version of Omoplata 2.0 Here
Order to get instant streaming access to Omoplata 2.0 online on your computer, smartphone or tablet.
ON SALE $77 (Regular $147)


Order  to get Omoplata 2.0 on 5 high quality physical DVDs and free shipping to anywhere in the world.
ON SALE $97 (Regular $177)

---
Who Am I?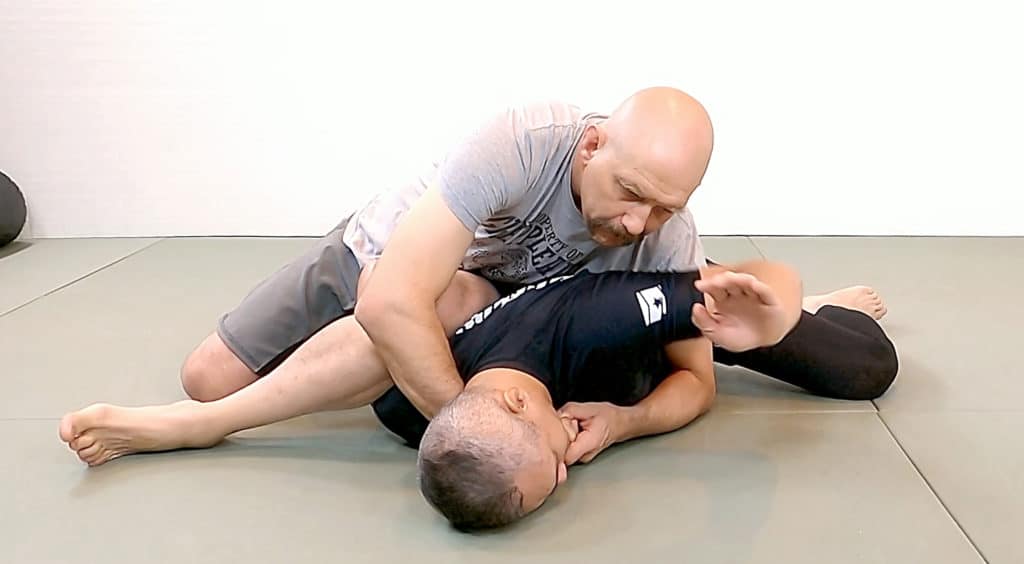 My name is Stephan Kesting.  I'm a BJJ black belt and have been doing martial arts for over 40 years. In addition to jiu-jitsu I've also trained in  many other grappling arts like sambo, judo, and shoot wrestling.
I've been teaching online for a long time. My Youtube videos about BJJ have over 62 million views, I've sold tens of thousands of instructional DVDs and apps, and millions of people have visited my Grapplearts website.
The omoplata armlock has been central to my game since the late 1990's and I've continued to refine and improve it my entire grappling career.
To improve my omoplata I've with some of the top competitors in the world, dissected countless hours of competition footage, logged endless training sessions, and continuously worked on improving my teaching methodologies for this technique.
This instructional is my attempt to give you an omoplata brain transplant. You'll learn all my best setups, finishes, and followups.
This is one of the best things I've ever produced and I think it'll help you a ton!
Stephan Kesting
---
Reviews and Feedback for the Omoplata 2.0 Instructional
"Last training of 2021 finished!  These last several day's I've been studying Stephan Kesting's Omoplata 2.0 instructional series and I am much better for doing so. 
Impeccably organised, extremely easy to follow for any level, and SO MUCH DETAILED INFORMATION!  And innovative.  Stephan's identification of the SOS (Sitting on Shoulder) as an actual position is very valuable to me and will be for my students.  And Stephan's teaching style is so easy to follow.  Many thanks to Stephan for making this available."
Burton Richardson
Founder of JKD Unlimited
Third Degree Black Belt in BJJ under Egan Inoue
Full Instructor in Jun Fan JKD under Guro Dan Inosanto
Full Instructor in Filipino Martial Arts under Tuhon Dan Inosanto
Full Instructor in the JKD Grappling Association under Sifu Larry Hartsell
Instructor in Thai Boxing under Master Chai Sirisute
Guro in Penjak Silat under Pendekar Paul De Thouars
Instructor in Kali Ilustrisimo under GrandMaster Ilustrisimo
---
"Stephan's new omoplata instructional is brilliant in how simple it is. This is not a grab bag of random techniques.  It's a systematic framework for understanding the ideas behind one of Jiu-Jitsu's most underrated submissions."
Steve Kwan
BJJ Black Belt
Founder of the BJJ Mental Models Podcast
---
"This instructional is one of the very best instructionals that I've seen.  It's an entire system, not just a bunch of related moves and set-ups.  Professionally edited, thorough, with quality content.  It's what happens when you get someone with decades of actual jiu-jitsu experience and mix it with decades worth of instructional experience."
Paul Kindzia
Author of Master Jiu-Jitsu, Master Life
---
"This is an awesome Omoplata tutorial.  Really enjoying it Stephan.  Just like with all your other tutorials it is obvious that you have put an enormous amount of work into it. I am going to enjoy breaking this one down and sharpening up my Omoplata Game with it"
Reid Martin
BJJ Black Belt
---
"I just got back from a BJJ session. I bought your omoplata 2.0 instructional and partway through studying the video with dummy for drilling.  To my delight I was able to pull off many omoplata and variations today, and it even helped me with triangle setups.  I've been doing BJJ for over 3 years (with lockdown at home with dummy, as I'm CEV) and today is the first time I pulled off omoplata in sparring.  And I did it many times!"
Alex B
BJJ Blue Belt
---
"Stephan, I'm not done with the Omoplata 2.0 instructional yet, but man… I feel like I've been missing out on SO MANY OPPORTUNITIES.  Thinking back on all the times the Omoplata was there… but I wasn't.  Frustrating.  Just the first part of the program makes me excited to get back on the mat and rip some shoulders (in a nice, gentle way).  This is an instructional I'll actually finish watching."
Lincoln Tad Murphy
Professional Wrestler and BJJ Enthusiast
---
"Hey Stephan, The Omoplata 2.0 is probably the most thorough breakdown of any singular technique I've ever seen.  As your demo partner on this project I was consistently impressed by the depth and detail of each Omoplata entry, finish and followup.  This instructional truly is ground breaking!"
Ritchie Yip
BJJ Black Belt
Kickboxing Coach
Owner, Infighting MMA
Uke for the instructional
---
What Exactly Are You Getting in the Omoplata 2.0 Instructional?
Volume 1: Introduction and Quickstart
The goal of this section is
How to  Get Good at the Omoplata
Quickstart Omoplata 101 Overhook to Triangle to Omoplata
Quickstart Omoplata 102 Crossgrip Omoplata
Volume 2: Omoplata Concepts
The Hourglass Concept
Trigger Positions
Alignment Breaking
Control the Elbow
Sweep, Submission or Setup
The Fundamental 5 Positions
The 5 Main Entry Mechanisms
The Art of Sitting Up
4 Ways to Break Alignment in an Omoplata Attack
How to Actually Finish the Armlock
The Monoplata
Volume 3: Omoplata Entries from Guard
From Closed Guard: Overhook to Triangle to Omoplata
From Closed Guard: Crossgrip Omoplata
From Closed Guard vs Standing Opponent
From Closed Guard vs Stalling Opponent
From Closed Guard Collar and Sleeve Grip
From Closed Guard Straight Armbar Threat
From Triangle Choke Threat
From Platform Armlock and Overhook Threats
From Hip Bump Sweep Attack
From Pendulum Sweep Attack
From Closed Guard Kimura Threat
From Reverse Kimura Grip
As a Defense to Underhook-Based Guard Passing
Two on One Grip Setups
From Failed Butterfly Sweep
Flying Butt Smash Omoplata
From the Outside Hook Guard
Double Biceps Spider Guard Entry
Elbow Pull Entry from Lasso Spider Guard
Berimboloplata from Lasso Spider
Spin Under Entry from Lasso Spider Guard
Volume 4: Omoplata Entries from Other Positions
As a Single Leg Takedown Defense
Two Omplata Attacks vs Turtle
The Reverse Omoplata
Two Omoplatas vs the Folding Pass
Three Omoplata Entries from the Armbar
Two Omoplata Entries from Mount
Two Omoplata Entries From Side Control
Countering the Koala Situp Guard
Countering the X Guard
Volume 5: The Sitting on the Shoulder Position
What is the Sitting on Shoulder Position and Why Does it Matter?
Transition to Sidemount
3 Near Arm Submissions
Submit the Far Arm
Back Breakfall Omoplata Entry
Side Roll Omoplata Entry
Monoplata Entry
Top Triangle Choke Entry
Top Armbar Entry
Volume 6: Omoplata Counters and How to Counter Those Counters
The Trapped Bottom Leg Defense
3 Recounters vs the Trapped Bottom Leg
The Hidden Arm Defense
5 Recounters vs the Hidden Arm
The Wrong Side Arm Defense
6 Recounters vs the Wrong Side Arm
Getting to and Holding The Reverse Crucifix
7 High Percentage Attacks from the Reverse Crucifix
The Turn In Defense
4 Recounters vs the Turn In
Kneeling Posture Defense
7 Recounters vs Kneeling Posture
The Reverse Knee on Belly Counter
2 Recounters vs the Reverse Knee on Belly
The Standup Escape
4 Recounters vs the Standup
The Forward Roll Escape
4 Recounters vs the Forward Roll
The Stepover Counter
4 Recounters vs the Stepover
The Reverse Hitchhiker Roll Escape
6 Recounters vs the Reverse Hitchiker Roll Escape
The Low Angle Cartwheel Escape
4 Recounters vs the Low Angle Cartwheel
The Underroll Defense
3 Recounters vs the Underoll
Toehold Over Head Counter
2 Recounters vs the Toehold Over the Head
How to Make Your Omoplata Beautiful
Volume 7: Bonus Videos
Bonus video 1
Bonus video 2
Bonus video 3
Bonus video 4
---
Frequently Asked Questions About Omoplata 2.0
Q: What formats is The Arm Drag and 2 on 1 Formula available in?
A: This brand new instructional is available as a high-quality 5 DVD box set, and/or as an instantly available streaming format at Grapplearts.com/online, and/or within the The Grapplearts BJJ Master App for Android and iOS .
Q: Do I need to be flexible to use these techniques?
A: The answer is 'you don't need to be flexible at all'.
I'm not a big advocate of building a jiu-jitsu game around unusual physical attributes. If you need to be crazy flexible (or crazy strong) to pull off a technique then it's probably not fundamentally good jiu-jitsu.
More specifically, I filmed this instructional two weeks before having a full hip replacement surgery.  I assure you that before this surgery the flexibility of my hip was at an all time low, but I still managed to easily perform all the techniques I wanted to include in the instructional.
Q: Is the Omoplata 2.0 instructional for gi or no gi?
A: The answer is that Omoplata is designed for both gi and no gi players.
All of the concepts and the vast majority of the entries, finishes, counters, recounters and drills will work for all jiu-jitsu athletes, regardless of whether they prefer to train in a gi, in board shorts and rashguards, or cross-train in both arenas.
That being said there are are a few techniques that tend to work better in the gi, and others that work better in the no gi ruleset.  But that's less than 15% of the total material covered.
Q: How advanced is the material in Omoplata 2.0?
A: The answer is that the material in this instructional is applicable to a very wide skill range.
At one end is the relative newbie with a few basic attacks from guard who wants to add more versatility to his bottom game and start connecting those moves together more effectively. If that's you then no worries. I'll show you the highest percentage entries, details, and finishes so you can get started tapping people out right away.
At the other end of the spectrum is the advanced practitioner who wants to find new ways to attack and actually finish with the omoplata submission. And think that these individuals will also benefit from my sharing the more advanced entries, transitions, counters, and counters-to-the-counters (aka 'recounters).
This isn't a 'one and done' instructional.  I've carefully planned out the whole thing so that it's a resource you can return to it again and again.  As your skill with the omoplata increases you'll have new questions at which point you can come back to the instructional, find the answers, and take your game up to the next level.
Q: What makes this instructional different?
A: Many instructionals simply show a whole bunch of independent techniques.
Learning techniques piecemeal doesn't make you a better grappler, because if one of those individual moves fails and you don't know what to do next then you're hooped.
Instead what you'll be learning here is a complete system.
You'll learn exactly how to use the entries, counters, recounters and finishing mechanics together so that you'll always have an answer for what to do next.  This will give you a sense of  confidence that'll allow you to dominate your opponent more easily.
---
My 100% Money Back Guarantee.
I'm so confident that this instructional will  that I will back it up with a 100%, no wiggle-room, zero hassle money back guarantee.
My return policy on this is really simple: if you don't like the material, if you don't find the format useful – anything – then you have 365 days to let me know and I'll give you a complete refund.
This is not about 'tricking' you into buying something that isn't useful and isn't what you needed.
It's about being able to check this product out with confidence that it's going to work for you, or all your money back.
---
Order the Physical and/or the Digital Version of Omoplata 2.0 Here
Order to get instant streaming access to Omoplata 2.0 online on your computer, smartphone or tablet.
ON SALE $77 (Regular $147)


Order to get Omoplata 2.0 on 5 high quality physical DVDs and free shipping to anywhere in the world.
ON SALE $97 (Regular $177)

---
The omoplata has been one of my very favorite, most reliable techniques for more than 20 years
I can't wait to share my most powerful omoplata techniques, hacks, transitions, cheats, tips, strategies, trick and tricks with you!
Sincerely
Stephan Kesting
P.S. I've put a TON of  time, effort and resources into the Omoplata 2.0 instructional and if you get it I think you'll learn a lot and really enjoy it!
P.P.S.  Some people wanted to know if the Omoplata 2.0 instructional is going to be covered by my unconditional 365 day moneyback guarantee. The answer is, yes, of course.
If you don't like this instructional… if you have second thoughts… if you quit jiu-jitsu and sell your rashguards… then no problem.  Contact me through this site and I'll give you a full refund anytime in the first 365 days after your purchase.