Dr Leif H Smith has worked with NBA teams, NFL players, and athletes from almost every sport.
He's also the author of "Sports Psychology for Dummies," the best-selling book on optimising your performance in training in competition.
I was thrilled to have Dr Smith on my podcast recently and get deep into the weeds about the mental components of optimal performance recently.  We discussed everything from how to develop mental toughness, how not to choke under pressure, how to maximise your confidence, and much more.
(Dr Smith trains in BJJ and has worked with many MMA fighters so the stuff he talks about in this podcast really applies to martial artists as well.)
Check out this amazing episode in one of the 3 formats below…
Streaming Audio on the Free Grapplearts BJJ Master App
In addition to having a TON of techniques, the Grapplearts BJJ Master App now allows you to stream all episodes of my podcast from within the app.
And did I mention that this app is FREE to download and the podcast function is FREE to use?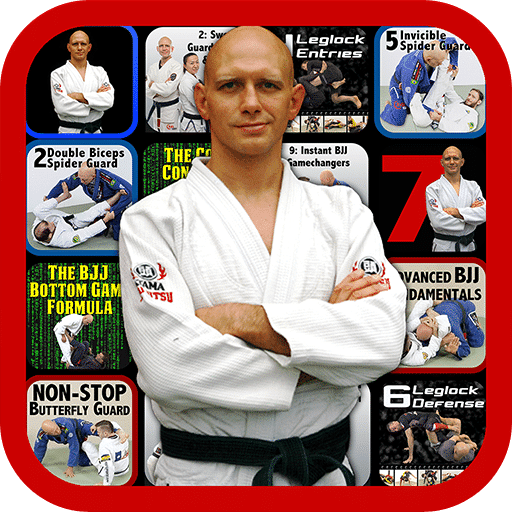 Click Below to Download the Grapplearts BJJ Master App for Free Now
Streaming Audio Format
You can listen to episode 263 of The Strenuous Life Podcast about applied sports psychology with Dr Leif H Smith in the player below
Podcast Player Options
You can also listen to every episode of The Strenuous Life Podcast (including this one) on the podcast player that you already have on your phone!
For example, if you have an iPhone then it's the purple app with the antenna-like thing in it; just click the Apple Podcasts link below to go to the right place and hit 'subscribe'.
Here are the links to find the podcast on various players – today's show with Leif about sports psychology is episode 263…
Highlights of the Podcast Episode with Dr Leif H Smith
00:46 – Intro and Dr Leif H Smith's background
03:27 – Professional sport teams Leif has worked with
06:41 – Differences between team sports and individual sports
08:06 – Example of group of stars that didn't performed well together
11:59 – Common psychological performance issues combat athletes run into
15:21 – How to develop mental toughness
16:46 – How to manage fear
26:21 – What is the optimal state of arousal for your sport
35:51 – Heart rate monitors, HRV, and other measurements
38:51 – How to avoid choking in competition
42:31 – How you can use breathing to change your mindset
45:47 – Visualisation and peak performance
54:08 – How to handle losses
57:56 – What should be in your training journal?
1:03:22 – How to train BJJ with intention
1:05:29 – Claustrophobia in jiu-jitsu
1:07:07 – The confidence cycle in training and competition
1:14:17 – How to reach Leif
Check out 'Sports Psychology for Dummies' anywhere books or ebooks are sold, follow Dr Leif H Smith on Twitter at @DrLeifSmith or check out his website at PersonalBestConsulting.com.
If you're enjoying these episodes then please give The Strenuous Life Podcast a rating or a review in the podcast platform you use most often.  That really helps!
Thanks,
Stephan
Comments ( )