I'm a huge fan of the family of guards known as the X Guard.
This type of guard has saved my butt so many times it's not even funny, and has allowed me to sweep opponents that were otherwise almost entirely unsweepable.
But there are still some people out there who haven't heard about the X Guard position. And there are other people who might not know that there are actually different styles of X Guard.
In fact there are 5 main styles of X Guard, and they are…
The Single Leg X Guard
The Overhook X Guard
The Standard X Guard
The 'Wrong Way' X Guard
The Scissor X Guard
In the video below I break down each of the above styles of X guard – watch it and you may just find your next, favorite type of guard!
I'm a huge fan of X Guard Styles 1 and 3 (the 'Single Leg X Guard' and the 'Standard X Guard') and think that they work together to form an amazing sweeping platform, but it's still important to understand the overall picture.
If you prefer photos rather than video you can get the short version of the story below from my Instagram feed:
P.S. This video is actually a short snippet from my latest instructional, the Single Leg X Guard Masterclass!
This instructional mainly focusses on the Single Leg X Guard style, but it also goes into depth about the interplay between it and the Standard X Guard.  Like I said earlier, the two together are very powerful!
Right now during the launch period you can pick up the Single Leg X Guard Masterclass for as little as $57, but that price is going to go up to $97 soon.
Click here to find out more about the Single Leg X Guard Masterclass instructional on Grapplearts.com.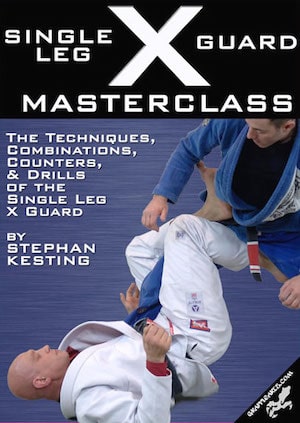 Comments ( )