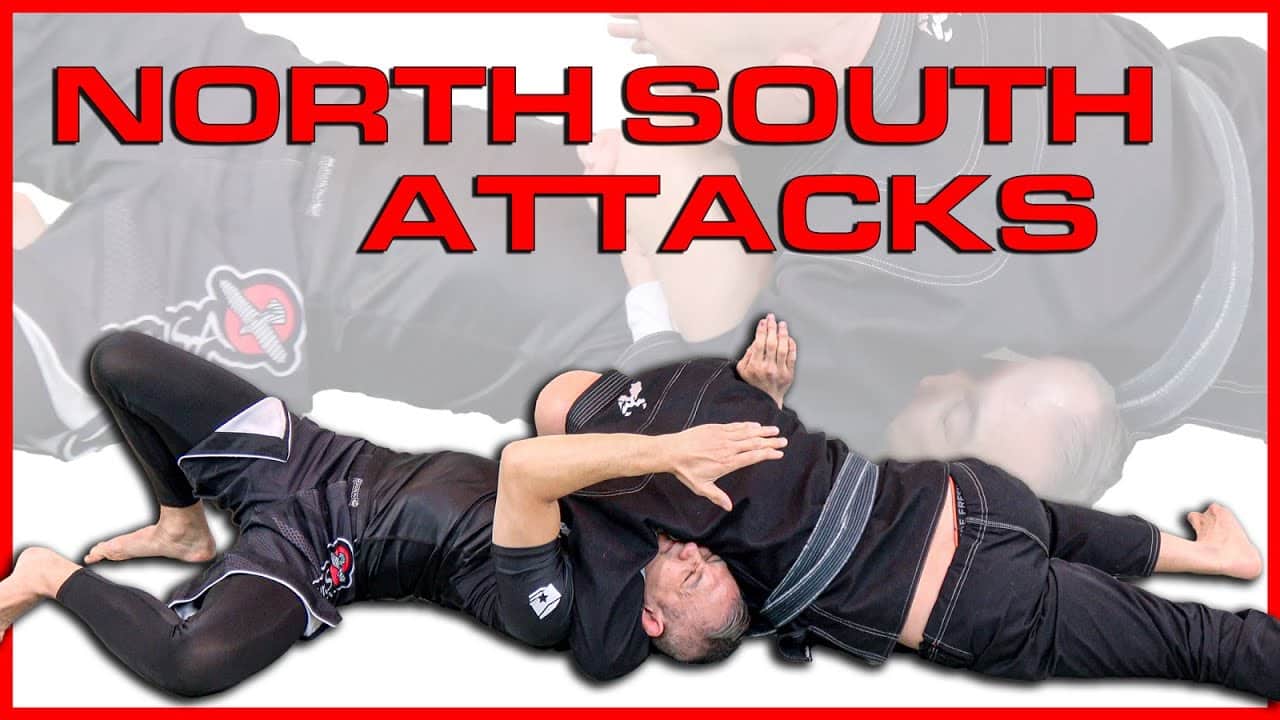 The north south position is a variation of side control where you're lined up at roughly 180 degrees to your opponent; your head is pointing towards his feet and vice versa.
If you're skilled at the north south position you can make life hell for your opponent, especially since many of his standard side control escapes won't work in this configuration.
And it also opens up some very powerful submission options. Let's look at the main variations of the north south position, as well as 3 of my very favorite attacks.
Video Breakdown of the North South Position and My 3 Favorite Attacks
I shot a video for you that I hope will answer many of your questions about the north south position.
After that scroll down through the rest of the article because I've included some very good resources to sharpen your attacks even more!
First, here's the video about north south attacks…
The Kimura from North South
The Kimura is one of my favorite attacks, and I go for it anytime I can get one of my arms under his arm in north south.
I break down this Kimura attack starting at the 50 second mark of the video at the top of this page.
Here's a quick overview of the main steps:
Capture the an arm by wrapping it with your own arm

Drive forward until his arm pops free from the side of your head and ends up over his belly

Lock the figure 4 grip to control his arm
Control his head and shoulders, typically by turning

his face towards the floor and pinching his head with your knees

Glue his triceps to your chest with your arms

Rip his inevitable defensive grip apart using my back and NOT my arms

Never let his hand go anywhere near his belt, inner thigh, or spare hand ever again
Finish him by slowly introducing his hand to the back of his head.
For some more details, options and variations of how to finish the Kimura from this position I'll leave you with a couple of videos to watch..
First, here's Rob Biernacki from The Submission Formula showing you how to tweak the armlock when your opponent is much bigger and stronger than you.
And second, here's one of my very favourite north south Kimura variations in which you end up controlling his upper body in a very different way…
The North South Choke from the North South Position
Next in the series of my favorite north south attacks is the north south choke itself.
I break down the north south choke attack starting at 2:58 in the video at the top of this page.
If you're hunting an arm it's common for your opponent to lift his head up in an attempt to compact his body.  Once his head is off the ground it opens a path for you to attack…
Ahoot your arm around his neck, getting your forearm on the back of his neck and your biceps right up against the side of his neck

Use the side of your ribs to turn his face away from you (one of his defenses is to turn his face towards you)

From here sprawl back, hips to floor and lock your hands if you can (locking then hands isn't always neccessary but it helps)

Squeeze your arms, sag your shoulder down into his throat, and go back, back and further back until he taps
Here's all time great grappler Marcelo Garcia breaking down the north south choke for me.
Watch this video because it contains some great details on the choke!
Taking the Back from North South
Taking the back is another one of my favorite north south attacks.  I learned this from Combat Submission Wrestling founder, Shooto lightheavyweight champion, and BJJ black belt Erik Paulson.
I break down the north south choke attack starting at 3:02 in the video at the top of this page.
Here's a quick breakdown of the steps…
Start in north south and bring both of your arms under his arms (double underhooks)

Link your hands tightly or, if he's wearing a gi, grip his lapels close to his armpits
Come onto your feet, drive forward, let his head pop out onto your chest
Sit back and put your hooks in to achieve rearmount.
This is a great attack and one most opponents will never see coming.
Other Articles That Might Be of Interest
On March 1st, 1998  Joel Gerson stepped into the ring against Japanese Shooto superstar Rumina Sato.
At that time Rumina Sato was undefeated in Shooto, Japan's oldest MMA promotion. Think of him as an early version of Georges St Pierre – an explosive, unorthodox fighter who could punch, kick, and attack with a dizzying array of upper and lower body submissions.
In this era Japanese MMA stars were typically given several 'easy' matches in between tougher bouts in order to keep them fighting and to build up their records.
So giving Sato an unknown Canadian fighter who had never had a real MMA fight really did seem like feeding a goldfish to a shark…
Click here to continue reading and/or listen to the associated episode of The Strenuous Life Podcast.
---
There are some essential BJJ gross motor movements that need to be trained over and over until they're smooth and instinctive.
Most of the time we train these transitions on our training partners, either in drilling or as part of sparring.
But some of the most important movements can actually be trained on your own – before class, after class, or at home – using a heavy punching bag.
Click here to check out 9 of my favorite BJJ solo drills that you can do with a heavy bag…
---
The leg drag is a modern addition to the world of guard passing in BJJ. It was popularized by world class competitors like the Mendes Brothers among many others.
And if you spend even a little bit of time competing or watching major tournaments you will notice this style of pass being used successfully in every weight division, from white belt up to world champion black belt.
Not only is this guard pass an incredibly powerful pass in it's own right, but it sets up tons of other passes, back takes, and submissions.
Even if you don't incorporate it into your game you need to be familiar with it because someone will surely try and use it on you!  And by learning how to do this pass yourself you'll automatically develop a better understanding of how to shut it down when you're on the bottom.
Click here to learn more about the Leg Drag guard pass.
---
And finally, please consider signing up for my email newsletter (it's the best in BJJ) by entering your email below, checking out my podcast, and/or downloading my free BJJ training app for iOS and Android devices.
Good luck with your training,
Stephan
Stephan's BJJ Newsletter Signup Here
Comments ( )