The Grapplearts Submissions instructional by Stephan Kesting gives you step-by-step instructions for the highest percentage submissions in Brazilian Jiu-Jitsu and Submission Grappling for your phone or tablet.
In this program you'll get the most effective and highest percentage submission techniques that can tap out any opponent.
ABOUT STEP BY STEP SUBMISSIONS BY STEPHAN KESTING
This is an instant-access program that you can dive into moments after your purchase – no waiting for DVDs to arrive.
Grapplearts Submissions includes:
42 techniques broken down using video instruction into easy-to-follow steps
Additional 'Details' for every technique, taking you through the advanced points to make the submissions truly effective.
All the material is shot in HD video
Position-based menus get you to the technique you need quickly and easily
ABOUT STEPHAN KESTING
Stephan Kesting is a Brazilian jiu-jitsu blackbelt and has been doing martial arts for over 30 years.  He is also a certified instructor in Erik Paulson's Combat Submission Wrestling, a black belt in Kajukenbo Karate, an instructor in Dan Inosanto's Jun Fan JKD, Maphalindo Silat and Filipino Martial Arts program.  He has also studied Japanese Judo, Russian Sambo, various Chinese Kung Fu systems, Brazilian Capoeira, Muay Thai Kickboxing, and many other martial arts.
Stephan has published hundreds of articles, techniques, and tips online and in many of the major martial arts publications.  He also operates this site, Grapplearts.com, which is one of the most respected grappling sites on the web.
Stephan has helped tens of thousands of grapplers worldwide improve their skills with his extensive collection of highly reviewed instructional apps and DVDs.
PREVIEWS
Below is a small selection of videos that you will get access to when you purchase the Grapplearts Submissions instructional
Technique 29: How to Do the Head and Arm Choke
Technique 37: The Standing Kimura
Technique 40: The Sleeve Choke in 6 Steps<
TECHNIQUE LIST
CLOSED GUARD 
1-Methodical Armbar
2-Fast Armbar
3-Triangle Choke
4-KImura Armlock,
5-Guillotine Choke,
6-Omoplata Armlock,
7-Anke Lock (from top),
OPEN GUARD 
8-Triangle Choke,
9-Armbar,
10-Ankle Lock (from top),
11-Ankle Lock (from bottom),
12-Kneebar (from top),
13-Kneebar (from bottom),
HALF GUARD 
14-Kimura (from top),
15-Kimura (from bottom),
16-Kneebar (from top),
17-Kneebar (from bottom),
18-Anklelock (from top),
SIDE MOUNT
19-Americana / V-Armlock,
20-Kimura / Chicken Wing,
21-Armbar,
22-Arm Crush ,
23-Head & Arm Choke,
KNEE MOUNT
24-Kimura / Chicken Wing,
25-Spin Armbar,
FULL MOUNT
26-Floating Armbar,
27-S-Mount Armbar,
28-Americana,
29-Head & Arm Choke,
REAR MOUNT
30-Rear Naked Choke,
31-Armbar,
32-Crossed Ankle Lock,
TURTLE
33-Straight Armbar,
34-Armbar Using Legs,
35-Rolling Kneebar,
STANDING
36-Standing Guillotine,
37-Standing Kimura,
38-Flying Armbar,
GI-BASED 
39-Cross-Collar Choke
40-Sleeve Coke,
41-Clock Choke,
42-Bow & Arrow Choke.
Only $3.99 (Regular $47)
---
Or get the App Version of STEP BY STEP SUBMISSIONS Here…
Only $3.99 (Regular $47)
This instructional, with all 42 submissions, is ALSO available for the same price as within the Grapplearts BJJ Master App for your Apple or Android device.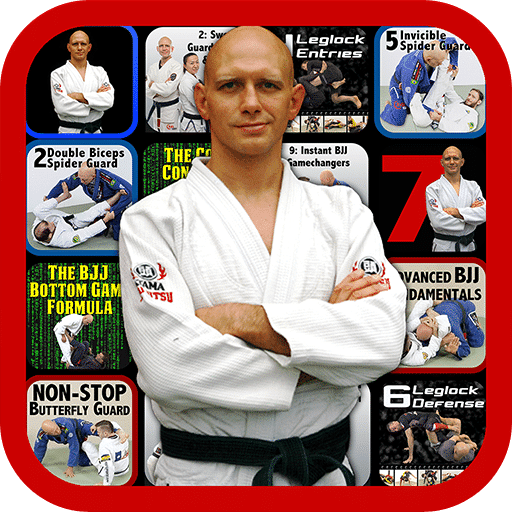 To get it on your phone is a very simple 2 step procedure…
Step 1: Download the Grapplearts BJJ Master App for Free!
Click on the correct button for your phone below:
There, that's it!
Regardless of whether you opt for the online streaming  or the app-based version of this instructional it's an amazing deal.
Good luck with your training!
Stephan