Over the past few months on this blog I've been sharing a lot of de la Riva guard material.
This series has been centered around the Ball and Chain Sweep which is one of the keystone de la Riva attacks that has been used by a lot of top BJJ competitors including Otavio Souza,  Pe de Pano, and Brandon 'Wolverine' Mullins.
In case you haven't seen it before here's a quick reminder of what the basic Ball and Chain looks like (full breakdown here).
Now if he Ball and Chain Sweep works then great; not only did you get to the top but if you keep the grip then you can pass the guard very easily.
As Brandon Mullins says, "if the grip is good enough to sweep then it's good enough to pass!" (Here's how to link the Ball and Chain to a very powerful guard pass.)
But sometimes a sweep doesn't result in a reversal of positions but rather opens up the path to other attacks.
For example here's a great example of how to link an almost-successful Ball and Chain Sweep to a very powerful triangle choke.  This technique is an example of theory meets practice, since the thing that makes the triangle choke effective is the systematic destruction of base, posture and structure.
But the technique I really wanted to share with you today is another transition from the Ball and Chain Sweep.
As outlined in The Roadmap for BJJ, rearmount or backmount is the most powerful position in BJJ. If you can upgrade from the de la Riva guard to the back then you're definitely well on your way to winning the match.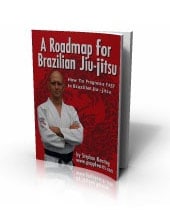 As you can see in the video below, a very common response for an opponent caught in the Ball and Chain is to drop to his knees in an attempt not to faceplant into the ground.
Unfortunately for him this response simply opens a path to his back.
The key here is maintaining the grip on the sleeve you've fed through his legs until the very last moment – that grip breaks his structure, compromises his posture, and makes it much harder for him to block your hook insertion.
Check out all the steps in the video below!
The takehome message is this…
Develop your keystone techniques and then link as many other techniques as you can to them!
I promise that this approach will give you huge dividends!
Cheers,
Stephan Kesting
Related Instructionals
---
Nonstop Jiu-Jitsu Book with Brandon Mullins and Stephan Kesting
Nonstop Jiu-Jitsu is the giant new BJJ book by Brandon 'Wolverine' Mullins, a BJJ black belt world champion, and Stephan Kesting, a renowned BJJ black belt educator with 40 years in the martial arts.
This book is laid out in gorgeous full colour and multi-page spreads where you'll learn plug and play gameplans for exactly how to control and submit your opponent on the ground. These techniques and combinations have been developed and tested over decades of competition so you know you can rely on them when the chips are down.
You'll also get advanced details, training tips and conceptual breakdowns that will make your jiu-jitsu more powerful than ever before.
Click here for more info about Nonstop Jiu-Jitsu, the book.
---
BJJ Formula with Rob Biernacki and Stephan Kesting
The BJJ Formula with Rob Biernacki and Stephan Kesting is a four volume, eight hour masterclass taught by BJJ black belts Rob Biernacki and Stephan Kesting.
This is a totally revolutionary approach to BJJ that will allow you to hack Brazilian Jiu-Jitsu and become an effective grappler much faster.
In this set two experienced black belts take you through the most effective techniques in BJJ as well as the underlying concepts, breaking things down into bite-sized pieces making it easy to learn and retain the material
Click here for more info about The BJJ Formula
Comments ( )