All over the world grappling enthusiasts rave about the quality and quantity of information on the DVDs produced by Stephan Kesting and Grapplearts.com. Now, with one easy click of a button, you can add the entire collection to your shopping cart.
This 8 pack includes the following DVD sets:
These items would cost you$379.60 if purchased separately, plus extra shipping.  But if you grab them all right now then you only pay $177 and get free shipping anywhere in the world this week only!.
This really is the best deal on these instructionals.
Regular Price $379.60, On Sale for $199 with Free Shipping

Also, if you order today you will receive THREE additional gifts as part of complete Grapplearts 8 DVD package.
Your order confirmation page and confirmation email will contain links where you can download the two items and start reading them immediately!
1) Special Report: Anatomy of Training Camp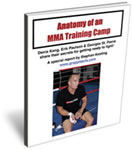 How do Denis Kang and George St. Pierre train when they're getting ready for a big fight? How do they balance MMA, Boxing, Jiu-jitsu, Wrestling, and Muay Thai training? Where does conditioning fit in?
Also find out how MMA coach Erik Paulson trains such fighters as Brock Lesnar, Ken Shamrock, Josh Barnet, Sean Sherk, and many more.This is a fascinating insider look at the lifestyles and training regimes of professional MMA fighters, and is available only as part of this MMA Package.
2) Cutting Weight and Beating the Scale
Have you ever been beaten in a match by a person much bigger and stronger than you, who obviously cut weight to make his weight division. Or, even worse, have you failed to make weight at a tournament and got immediately disqualified? JC Santana from the Institute of Human Performance has worked with some of the best grapplers and fighters active today, and will teach you how to cut weight safely and effectively.
If you want to know exactly how cut weight for a competition, or even if you want to understand what a UFC fighter does before weigh ins, then this is the book that you need. Included is a special 7 day step-by-step weight cutting plan and an entire section on exactly what to do after the weigh in to recover in time for the competition.
3) Drills Index
Active training on the mats is more important than passive video watching. With most videos you are expected to memorize the material and then go train the techniques later.
This is a heavyweight index of all the drills on the Grappling Drills DVD (which is included in this 8 DVD package). Also included are 6 sample workouts to give you an idea of how to incorporate drilling into your training regimen.
This index is printed on heavy cardstock and is suitable for lamination.Now you CAN take it with you!

Regular price $379.60, plus extra shipping, but this week only it's $199 and you also get free shipping anywhere in the world.