Ever since Rob Biernacki and I  released the Modern Leglock Formula as a 12 hour DVD set and online streaming instructional people have been asking for the Leglocks in app form so they can take it with them everywhere.
Well, that day is finally here, and there's also a killer deal to be had on it as well!!!
The Modern Leglock Formula is actually one of many modules within the brand new Grapplearts BJJ Master app.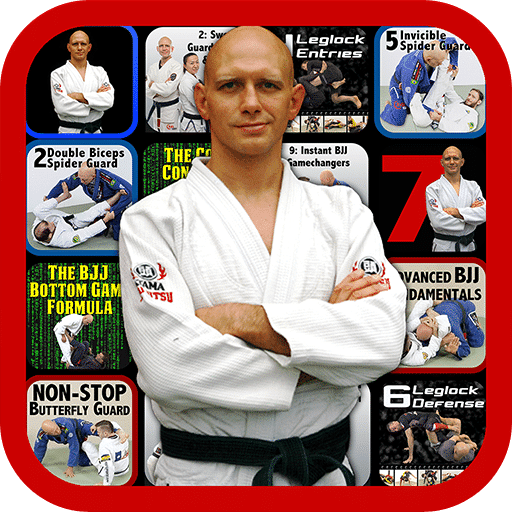 And if you get the Grapplearts BJJ Master app then you can check out 30 free videos (the first 3 videos from each of the 10 modules) from the Modern Leglock Formula for free.
In fact, here's a list of everything that's in The Modern Leglock Formula so you can see how extensive and systematic it is.
What's In the Modern Leglock Formula Apps?
Volume 1: Leglock Theory (Or Why Leglocking Is a Science)
Introduction (FREE)
Base, Posture, Structure and 'The Score' (FREE)
Frames, Levers and Wedges (FREE)
Total Control of the Leg
Position before Submission for Leglocks
Staying on Top
Advancing Through the Positional Hierarchy
Strong Side vs Weak Side (1-5-2)
How Leglocks and Guard Passes Help Each Other
Open vs. Closed Circuit Leglock Positions
Volume 2: Leglock Taxonomy (Or Which Leglock Positions Are Best)
A Taxonomy of Leglock Positions  (FREE)
Ashi Garami (FREE)
Cross Ashi (FREE)
Outside Ashi
Fifty/Fifty
Eighty/Twenty
Inside Ashi
The 411 Position
Rear Ashi
Grounded Kani Basami
de la Riva Ankle Lock
Knee Out
Butterfly Ashi
Vol 3 Dig and Break Mechanics 
Intro and Heel Hook Safety (FREE)
Heel Hook Dig and Breaking Mechanics (FREE)
Breaking Mechanics Troubleshooting  (FREE)
Heel Hook from Standard Ashi
Heel Hook from Inside Ashi
Heel Hook from Rear Ashi
3 x heel hook grips
Reverse Heel hook from Inside Ashi
Inside Heel Hook from 50/50
Inside Heel Hook from 411 –  Far Leg Kick Away
Inside Heel Hook from 411 – Pass Far Leg Over
Inside Heel Hook from 411 Shelf Far Leg
Inside Heel Hook from 411 – Stomp Far Leg
Additional Inside Heel Hook Grips
Intro to Kneebar Mechanics
Kneebar from Rear Ashi
Kneebar from Outside Ashi
Kneebar form 50-50
Kneebar from 411
Toe Hold Mechanics
Toe Hold from Inside Ashi
Toe Hold Outside Ashi
Toe Hold from the 411
Intro to Ankle Lock Mechanics
Ankle Lock from Outside Ashi
Ankle Lock from de la Riva Guard
Vol 4 Leglock Entries
Introduction to Entries into Leglock Positions (FREE)
Leg Pummelling to Standard Ashi (FREE)
Butterfly Elevation to Standard Ashi (FREE)
Butterfly to Standard Ashi vs One Leg Up
Idiot Sweep to Standard Ash
Ankle Drag to Standard Ashi
Butterfly Half Guard to Standard Ashi
Standard Ashi vs Open Guard
Half Guard Shell to Standard Ashi
Knee Cut to Bottom Leg Standard Ashi
Knee Over Pass to Top Leg Standard Ashi
Waiter Sweep to Standard Ashi
Outside Ashi Entries Intro
Leg Pummelling to Outside Ashi
Idiot Sweep to Outside Ashi
Shot Gun to Outside Ashi
X Guard to Far Leg Outside Ashi
Reverse de la Riva Bottom to Outside Ashi
Reverse de la Riva Top to Outside Ashi
Knee Shield Top to Outside Ashi
Open Guard Top to Outside Ashi
Knee Over Pass to Bottom Leg Outside Ashi
Waiter Sweep to Outside Ashi 
The 411 Entries Intro
Butterfly Entry to 411
Butterfly Sweep to Backstep 411
Ankle Drag to Imanari Roll to 411
Climbing Kani Basami from Shin Guard to 411
Knee on Belly Escape to Kani Basami to 411
Knee Cut to Backstep to 411
Double Under Pass to 411
Duck Under Pass to 411
Leg Drag Pass to 411
Top Kimura Control to 411 
Knee Over Pass to 411
Waiter Sweep to 411 
Superficial Pass to 411 
Half Guard Shell to 411
Volume 5: Leglock Transitions
Transitioning Up the Leglock Hierarchy (FREE)
Standard Ashi Side to Side Transitions (FREE)
Standard Ashi to Cross Ashi and 411 (FREE)
Standard Ashi to Outside Ashi
Standard Ashi to Inside Ashi and 411
Standard Ashi to Technical Standup
Outside Ashi to Rear Ashi
Outside Ashi to 411
Fifty/Fifty to Outside Ashi
Recovering from Smashed Outside Ashi
Grounded Kani Basami to 411
Grounded Kani Basami to Hip Clamp to 411
De la Riva Ankle Lock to Outside Ashi
De la Riva Ankle Lock to Standard Ashi
Volume 6 – Leglock Defense 
Intro to Leglock Defense and Leglock Position Escape (FREE)
Control Levers, Separate Legs, Clear Knee (FREE)
Mobilise Hip, Rotate, Don't Roll  (FREE)
Hiding the Heel
The Importance of Handfighting
Secret Cheats (& Immobilisation)
Specific Escapes
Escaping Standard Ashi
Escaping Outside Ashi
Escaping Inside Ashi
Escaping Rear Ashi
Escaping 50/50 and 80/20
Escaping the 411
Escaping the 411 to Rolling Back Take
Volume 7 – ADVANCED LEGLOCKING
What Is Advanced Leglocking? (FREE)
Leg to Leg Concept (FREE)
411 vs Standard Ashi Rotation Escape (FREE)
411 vs Outside Ashi Smash
Inside Ashi vs 411 Turn
Outside Ashi Transfer vs Standard Ashi Rotation Escape
Opportunistic 50/50 Transfer
Ashi Transfer from 411 Knee Extraction
411 Against a Standing Opponent
411 to Barrel Roll and Stomp
What Is Counter Leg Locking
Staying Inside the Pocket
Inside Heel Hook vs Standard Ashi
Reverse Heel Hook vs Outside Ashi
Recounter to Outside Ashi from 411
Volume 8 Transitions to Passing and Upper Body Attacks, 
Intro to Passing and Upper Body Attacks Transitions (FREE)
Standar Ashi to Sweep/Back (FREE)
411 Transition to the Back (FREE)
Grounded Kani Basami to Back
50/50 Leg Entanglement Guard Pass
Cross Ashi to Leg Drag
411 to Far Side Knee Cut
Standard Ashi to Knee Over/Single Under
Volume 9 – Passing Against a Leglocker
How to Pass the Guard of a Good Leg Locker (FREE)
Standing to Shut Down Standard Ashi / SLX (FREE)
Floating Leg Pummelling vs Butterfly Guard(FREE)
Windshield Wiper vs Leg Drag Outside Ashi
123 Hip Switch vs Standard Ashi
Base, Frame and Sprawl vs Grounded Kani Basami
Duckunder/Windshield Wiper vs Inverted 50/50 or 411
Leg Drag vs Kani Basami
Volume 10 – Specialty Leglock Situations
Introduction to Specialty Situations (FREE)
Armbar Escape to Standard Ashi (FREE)
Twister Escape to 411 (FREE)
Twister Escape to Outside Ashi
Back Control with Single Hook to Outside Ashi
Bottom Deep Half Killer to Leg Entanglement
Omo Plata to Leg Entanglement vs Posture
Omo Plata to Leg Entanglement vs Roll
Triangle Defense to Leg Entanglement
Back Control Escape to Leg Entanglement
Body Triangle Escape to Leg Entanglement
Mount Escape to Standard Ashi
Grab the Grapplearts BJJ Master App for free here for iPhone and iPads here, or here for Android devices, or click here to find out more about it.
(Once again, the Grapplearts BJJ Master App within which you can access the Modern Leglock Formula  is completely free and there's zero obligation to buy anything)
Once you've downloaded the Master App here's what to do next…
When you open up the app look for the icon of the Modern Leglock Formula.
Within the Modern Leglock Formula section of the app you can preview 30 videos of leglock instructions completely for free.  And you'll see that the instruction, production and navigation is abosolutely top notch…
If you want to  purchase the Modern Leglock Instructional instructional then would recommend that you get ALL the 10 Leglock modules at once.
Not only will you get a completely coherent leglock game with a TON of entries, finishes, transitions and counters, but you'll also get a great deal.
If you buy all the modules separately you would pay $199, but if you get them all at the same time then it's half price, or $99.
Plus I'll offer you an unconditional moneyback guarantee. If you don't like the material for any reason, and there aren't very many people selling digital products or apps who will give you that offer!
So go here to grab the brand new Grapplearts BJJ Master App, then use that app to check out the best leglock instructional I have ever seen with an unconditional guarantee.
Comments ( )