My book, A Roadmap for BJJ, is an introduction to Brazilian Jiu-Jitsu that has been downloaded more than 200,000 times. It's an in-depth look at the basic positions of BJJ and how they relate to each other.
I've just released the Roadmap for BJJ in audiobook format that you can download for free. So now you can listen to the material in addition to just reading it!
The Roadmap for BJJ Audiobook in Podcast Form
You can now download and listen to entire The Roadmap for BJJ audiobook on my podcast.
It's episode 242 of The Strenuous Life Podcast which you can listen to using the podcast player that you already have on your phone!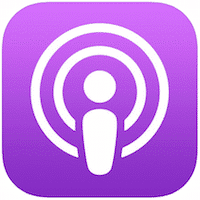 For example, if you have an iPhone then it's the purple app with the antenna-like thing in it; just click the Apple Podcasts link below to go to the right place and hit 'subscribe'.
Here are the links to find the podcast on various players – the audiobook version of The Roadmap for BJJ is on episode 242…
Download and/or Listen to The Roadmap for BJJ Audiobook on this Page
Podcasts are the very best way I know of to turn downtime into productive learning time.  I'm listening to them all the time on many different topics.
But if you don't do podcasts you can click here to download the mp3 file of The Roadmap for BJJ audiobook directly to your device.
Or if you don't mind leaving this window open for an hour on your browser then you can stream the audio using the player below…
Download the Roadmap for BJJ in PDF form and get FREE TIPS by Email
The downloadable version of the Roadmap for BJJ book in PDF form has many advantages.
It's full of pictures so you can see exactly what's going on, and it has a ton of links that you can use to get more information.
It really is the ultimate guide to progressing FAST in BJJ.
Enter your email below and I'll send you the link to download it…
The Roadmap for BJJ App
Finally, if you haven't done so already, I strongly suggest that you go and download my Roadmap for BJJ app for your smartphone or tablet.
This app uses video to teach you the positional hierarchy that makes Brazilian Jiu-Jitsu such an unbelievably effective martial art.
With this app you'll know how to focus your training and where you should be trying to get to in every position on the ground.
It has received tons really good reviews in the app stores (for which I am grateful) from people training BJJ, MMA, or submission grappling.
Click here for more information about the FREE Roadmap for BJJ app, or just click on one of the 3 big buttons below to download it for your smartphone or tablet.