If someone has you in their half guard and they have a strong underhook you're in trouble; they're DEFINITELY thinking about taking your back, sweeping your, or setting up a submission like a triangle choke.
A great weapon to shut all that nonsense down is the D'Arce Choke (also known as the no gi Brabo choke). 
This choke is an absolute staple of modern no gi grappling, and you have to know it!
First, here's a short video taking you through the steps for the D'Arce choke…
Now let's review the steps one-by-one…
You start out in your opponent's half guard.
In this position, he'll often try to secure an underhook on you, coming under your armpit in an attempt to climb to your back and secure rearmount.  You have to do something, and quick!
---
Wrap his underhooking arm (in this case his left) with an overhook (your right).  This stops him from having an easy route to your back.
---
Use your other arm (your left) to come under his head and secure the back of his neck.  Your goal here is to hold his head in place and prevent it from escaping backwards as you establish the rest of the choke.
---
Grip the back of his neck with the hand of your overhooking arm (your right). Now you've got two hands preventing him from moving his head away from you.
---
Pivot your top (left) hand so that your fingers are pointing down towards the floor. Continue applying pressure to the back of his head.
---
Sink your overhooking (right) arm deeper, leaning to your right to create more room if neccesary. The goal here is to get your right hand completely past his head while simultaneously maintaining the overhook on his left arm.
---
Lock your arms into the rear naked choke or 'lion killer' position, your right hand going onto your own left biceps, and your left hand clamping onto his back.
---
Drop your weight back and then downwards to get the upper part of your chest against the front part of his left shoulder (his front deltoid essentially).
---
Drive forward off the balls of your feet to push him flat while squeezing your arms together. The circulation in his neck gets cut off from below by your right arm and on top by his own left shoulder.
This is a very powerful choke that you should consider adding to your jiu-jitsu arsenal! And watch out for it being used on you if you're ever playing the half guard with a lazy underhook.
---
More Powerful Jiu-Jitsu Techniques
If you're caught in your opponent's half guard then you have to be careful not to get swept, submitted, or have your back taken. That being said, you have attack options on top too!
Here's how to use the Kimura, an amazingly versatile submission, to pass the guard and tap out your opponent when you're in the top half guard position…
Click here to learn the Kimura vs the Half Guard.
---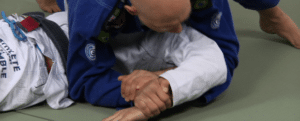 The Kimura, much like any other technique, is usually taught as a series of steps. It can be a lot to remember, but it's always easier to remember all the steps and adjustments if you understand WHY you're doing them.
In this article and video I explain exactly how to grip when you're applying the Kimura (regardless of whether you're applying it from top or bottom), and – most importantly – why gripping in this manner makes the submission much more powerful and harder to escape.
Click here to check out Kimura Grips Explained.
---
Most grapplers know how to apply the Kimura armlock on the far side of their opponent's bodies.  It's an attack taught at white belt that you see in every grappling competition.
But many intermediate grapplers don't know that you can actually use the Kimura technique on both sides of your opponent's body. In fact, the near side Kimura is an absolutely critical position for controlling your opponent.  This is especially true in no gi when you have far fewer handles.
In this article I'll show you how to use that alternate gip Kimura to set up different submissions (armbar, side triangle choke, etc) and how to use it as a big giant handle to move your opponent all over the mat!
Click here to check out the Near vs Far Side Kimura.
Comments ( )