If you're caught in your opponent's half guard then you have to be careful not to get swept, submitted, or have your back taken. That being said, you have attack options on top too!
Here's how to use the Kimura, an amazingly versatile submission, to pass the guard and tap out your opponent when you're in the top half guard position…
Let's break this technique down step by step…
Kimura vs Half Guard, Step-by-Step
Even if the submission itself doesn't work, the Kimura is still a giant handle you can use to pin your opponent, maneuver him around, and/or take his back.
Give this technique a try, and if it works for you then please let me know on one of the Grapplearts social media channels!
More Kimura Content
The first time I saw this Kimura variation from the north-south position I said to myself, "Yeah right, that'll never work in a million, billion years!" And that's because it looked like you had no control over his body.
But the funny thing was that when I actually started training it then it felt pretty good… And then I started catching people in it and tapping them out… And now, years later, it's one of my very favourite ways to finish the Kimura.
Click here to check out the Fat, Lazy, Old Man Kimura.
---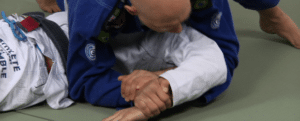 The Kimura, much like any other technique, is usually taught as a series of steps. It can be a lot to remember, but it's always easier to remember all the steps and adjustments if you understand WHY you're doing them.
In this article and video I explain exactly how to grip when you're applying the Kimura (regardless of whether you're applying it from top or bottom), and – most importantly – why gripping in this manner makes the submission much more powerful and harder to escape.
Click here to check out Kimura Grips Explained.
---
Most grapplers know how to apply the Kimura armlock on the far side of their opponent's bodies.  It's an attack taught at white belt that you see in every grappling competition.
But many intermediate grapplers don't know that you can actually use the Kimura technique on both sides of your opponent's body. In fact, the near side Kimura is an absolutely critical position for controlling your opponent.  This is especially true in no gi when you have far fewer handles.
In this article I'll show you how to use that alternate gip Kimura to set up different submissions (armbar, side triangle choke, etc) and how to use it as a big giant handle to move your opponent all over the mat!
Click here to check out the Near vs Far Side Kimura.
---
The first time someone showed me the standing Kimura attack I was pretty skeptical…
I was like, "yeah, that would never work, not in a million years!" Whoops, was I ever wrong.
You see, shortly after I was introduced to that supposedly 'useless' technique, a Japanese fighter named Kazushi Sakuraba started used the standing Kimura to tear a bloody swath through MMA world, besting a number of the very best jiu-jitsu guys fighting in Japan at the time.
Click here to check out the Standing Sakuraba-Style Kimura Armlock.
Comments ( )