The Grapplearts Guard Sweeps instructional by Stephan Kesting will give you step-by-step instructions for some of the most effective guard sweeps in all of grappling.
Sweeps get you from the bottom to the top starting in a wide variety of guard positions. These techniques all work both with and without the gi, making them applicable to Brazilian Jiu-jitsu, Submission Grappling, and MMA.
ABOUT STEP BY STEP GUARD SWEEPS BY STEPHAN KESTING
In this program Stephan takes you through the most effective high percentage sweep techniques, starting from the closed guard, open guard, butterfly guard, and others, getting you to the top position where you can dominate a match.
This app – Grapplearts Sweeps – includes:


26 high percentage guard sweeps broken down using high quality video instruction into easy-to-follow steps
6 detailed breakdowns and my top training tips for the most common guard positions.
'Additional Details' videos for every technique, taking you through the advanced points to make that technique truly effective
All the material is shot in HD video so it looks great on your iPhone, iPod Touch, and/or iPad
Position-based menus to get you to the technique you need easily and quickly
ABOUT STEPHAN KESTING
Stephan Kesting is a Brazilian jiu-jitsu blackbelt and has been doing martial arts for over 30 years.  He is also a certified instructor in Erik Paulson's Combat Submission Wrestling, a black belt in Kajukenbo Karate, an instructor in Dan Inosanto's Jun Fan JKD, Maphalindo Silat and Filipino Martial Arts program.  He has also studied Japanese Judo, Russian Sambo, various Chinese Kung Fu systems, Brazilian Capoeira, Muay Thai Kickboxing, and many other martial arts.
Stephan has published hundreds of articles, techniques, and tips online and in many of the major martial arts publications.  He also operates this site, Grapplearts.com, which is one of the most respected grappling sites on the web.
Stephan has helped tens of thousands of grapplers worldwide improve their skills with his extensive collection of highly reviewed instructional apps and DVDs.
PREVIEWS
Below is a small selection of videos that you will get access to when you purchase the Grapplearts Guard Sweeps program…
Technique 21: The Easiest Sweep from Butterfly Guard
Technique 16: A Highly Effective Half Guard Sweep
Technique 25: The First X Guard Sweep You Should Learn
TECHNIQUE LIST
CLOSED GUARD 
1 – Tips for the Closed Guard
2 – Back Climb
3 – Single Hook Sweep
4 – Hip Buck Sweep
5 – Pendulum Sweep
OPEN GUARD 
6 – Tips for the Open Guard
7 – Balloon Sweep
8 – Lumberjack Sweep
9 – Tripod Sweep
10 – Tomahawk Sweep
11 – Omoplata Sweep
HALF GUARD 
12 – Tips for the Half Guard
13 – Back Climb
14 – Bridging Sweep
15 – Foot Grab Sweep
16 – Rollunder Sweep
17 – Butterfly Lift
BUTTERFLY GUARD 
18 – Tips for the Butterfly Guard
19 – Butterfly Sweep
20 – Armdrag
21 – Ankle Pick
22 – Modified Lumberjack Sweep
23 – Idiot Sweep
X GUARD 
24 – Tips for the X Guard
25 – Standup Sweep
26 – Far Leg Buckle
27 – Back Trip Sweep
28 – Banana Peel Sweep
SPIDER GUARD 
29 – Tips for the Spider Guard
30 – Leg Reaping Sweep
31 – Baiting Sweep
32 – Double Biceps Balloon Sweep
Only $3.99 (Regular $47)

---
STEP BY STEP GUARD SWEEPS – THE APP VERSION
Only $3.99 (Regular $47)
This instructional, with all 32 techniques, is ALSO available for the same price as within the Grapplearts BJJ Master App for your Apple or Android device.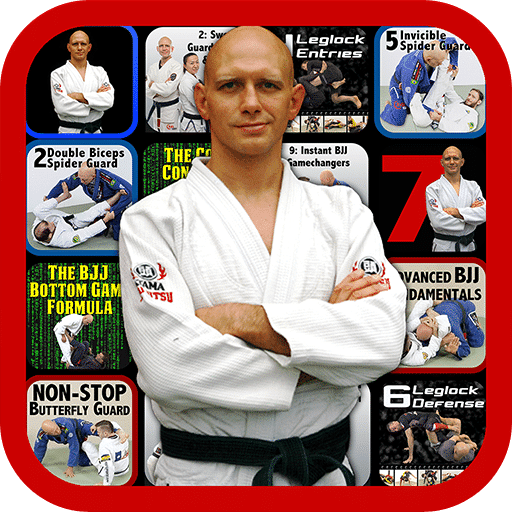 To get it on your phone is a very simple 2 step procedure…
Step 1: Download the Grapplearts BJJ Master App for Free!
Click on the correct button for your phone below:
If you want to get better at sweeping your opponent from the guard then this is a really valuable, and incredibly affordable, resource!
And now that you've got the choice between online streaming or the app-based version it's super convenient too.
Good luck with your training, and sweep someone for me soon!
Stephan