by Jeff Meszaros
On our worldwide survey of different grappling systems started by doing the grappling tour of Asia, training and competing in every country along the way. We started with Japanese judo and ended with Turkish oil wrestling.
Then, we covered indigenous grappling systems in Europe, going from Greek pankration to Icelandic glima.
Then we moved on to the U.K, trying out the various styles of wrestling they've been doing since the dark ages, some of which they don't do anymore.
As crazy as it seems, we've been grappling our way around the world.
Of course, by "we" I mean "you" since you're the one who has been doing all the grappling while I've mostly been visiting restaurants on your credit card. After all, that's what friends are for, right? You bet.
We're still only halfway done. There are still a lot of grappling arts to learn about! So let's get back on your private jet and go! Don't forget your groin cup and mouthguard. I hear a few of the styles on this leg of our journey are pretty rough.
Senegalese Laam
When was the last time you got slapped really hard by a huge African guy? Not for a while? Well, you're sure to get a reminder about what that's like as we stop here in Senegal and try out their sport called laam.
What's laam? Well it's the Senegalese form of wrestling and the idea is to make your opponent touch the ground with something besides his feet. So, it's a lot like sumo wrestling and Mongolian wrestling in that way.
There's one small difference though, as you're also allowed to slap each other and knockdowns are considered the same as takedowns. Do it and you win.
This is why they generally begin with something that, to us, looks a lot like patty-cake. But don't let that fool you..
Right after a bit of patty-cake it moves on to slaps so hard that just the sight of them makes you want to retract your head back into your torso like a scared turtle. If they don't slap your head off, they shoot in like NFL linebackers to tackle you.
Have fun! Try not to get a concussion.
Ethiopian Tigel
What do you think people like to do in Ethiopia? This may surprise you, but they actually have a traditional style of wrestling.
It's called tigel and, from the looks of it, it's a lot like Greco-Roman wrestling. They lock up and try to throw one another to the ground, but they don't seem to touch the legs, and once it goes to the ground, someone has won.
So, unlike laam, there's no slapping and no shooting like a missile for the legs. Also, everyone seems a lot smaller, so this seems much less terrifying.
Togo Evala
Welcome to Togo! If you thought the wrestling was crazy in Senegal you ain't seen nothing yet.
Let me run it down for you…
See, they have a kind of wrestling here that is part of a traditional festival marking a boy becoming a man.
Before wrestling, the young men are separated from their families for a week where they go on a special diet and work on "mental training" whatever that is.
Then, they go on a pilgrimage and climb three mountains. Yes, three.
Then they wrestle and then they are circumcised. So have at it, friend! Keep your back off the ground and stay away from anyone with scissors.
Brazilian Jiu-jitsu
A while ago, in the early 1900s, some Japanese people moved to Brazil and showed some jiu-jitsu to the locals. They took it and put their own spin on it, tweaking a few things here and there after testing themselves in fights against people from other styles of martial arts.
The art they created involves tackling an opponent to the ground and then submitting them with chokes and joint locks.
They don't concern themselves with much besides making an enemy surrender, and however you want to do that is up to you. As long as you make them surrender or "tap out" to signal defeat.
As is the case in many other martial arts, there are many sub-styles to Brazilian jiu-jitsu, with some people doing it for self-defence, some as a sport and others for use in mixed martial arts, which we'll get to later. Some people train with a uniform on while others prefer wearing just a pair of shorts.
It's this open-mindedness that has made Brazilian jiu-jitsu become so popular around the world in the last few decades. And here's your chance to try it in its country of origin.
So, have at it! But remember to tap out if you get caught in a submission hold. A broken arm is no fun.
Brazilian Luta-livre
Just like Japan has judo and sumo, Brazil has a several different martial arts to call its own. While Brazilian jiu-jitsu is pretty famous it actually also has another grappling style to lay claim to.
This one is luta-livre which, in Portuguese, means either "wrestling" or "fight book" depending on how you translate it.
Where does it come from?
Well, just like BJJ came from some Japanese people coming with jiu-jitsu and sharing it, luta-livre came when some catch-wrestlers stopped in as part of a traveling carnival and then shared their art with some locals. Again, the Brazilians decided to spice things up a bit…
The result is quite similar to BJJ with the one exception being that luta-livre fighters don't wear a kimono or gi.
This made it more popular among the less wealthy people who couldn't afford a fancy kimono to do jiu-jitsu, and luta-livre wasn't all that different in that the goal was still to tackle your opponent and force them to surrender.
But enough of me droning on and on. Take off that old kimono, get in there and give it a try. Again, don't forget to tap out if you get caught in a submission. You'll need your legs to dance later tonight when we hit the clubs.
Brazilian Vale Tudo
I know what you're thinking and, yes, Brazil has a third grappling art for you to try.
Really, though, vale tudo is more a kind of inter-style combat than a style to itself. Meaning "anything goes", it was a predecessor to the mixed martial arts we see today.
Competitors from all styles met to fight under very limited rules. There was no biting allowed and no eye-gouging. Aside from that, the fights were "anything goes" as it were.
There was jiu-jitsu, luta-livre, boxing, Muay Thai, even people off the street who wanted to throw down.
Want to try it? No? I don't blame you. It doesn't really exist anymore anyway, as it has been replaced by the more civilized style of mixed martial arts. We'll get to that one later.
Brazilian Huka-huka
Ok, we're not done yet. There's still one more style of grappling for you to try…
This one evolved right here in Brazil and wasn't brought in by anyone visiting from a far-off land. Come to think of it, this one could be the oldest grappling art in Brazil, as it's what the natives in the Amazon practice for fun and they've been at it for a while.
It's pretty simple: you start on your knees and, from there, you try to turn your opponent over onto their back.
Unlike jiu-jitsu, luta-livre and vale tudo, you aren't trying to choke your opponent or break their limbs. See you when you're finished! I'm going surfing.
Bolivian Tingu
Do you ever want to just punch your neighbour in the face?  Sure, everyone feels like that sometimes. But assault is illegal, right?
Not if it is a consensual fight!
This is the spirit of the Bolivian tradition called Tingu!
Basically, people just get together and fight. Is there any grappling? Well, it's basically a street fight so it's certainly possible that some grappling might happen.
Come to think of it, this isn't really a martial art since nobody trains in Tingu and there aren't any techniques per se. It's more like a street riot, but just one-on-one fights from what I can see.
Think of it like the opposite of Valentine's Day and, rather than giving chocolates to your lover, you exchange punches with an enemy. Like your smarmy neighbour who's always blasting music at all hours.
Actually, I might do this one myself. There's something appealing about punching a stranger in the face just to let off some steam.
Mexican Lucha libre
As far as I know, that's it for South America so let's head north and see what we can find…
Mexico has something going on called Lucha Libre, which sounds a lot like luta livre, doesn't it? I think so, but they are very different as the Brazilian one is like old-style catch wrestling and the Mexican one is a lot like modern pro-wrestling with flips and slams off the top rope, not to mention the masks and capes.
Actually, the Mexican style of Lucha Libre has become really well-known for the masks. Here, I had one made for you. Your wrestling name is "The Pink Flamingo" ok?
Alright, get in there and put on a show!
American Collegiate Wrestling
It's no mystery to figure out where Greco-Roman wrestling came from right? It was made by a French guy.
And Freestyle wrestling? That's basically a dumbed down version of catch-wrestling, which began in the U.K.
So neither of those are truly American, sorry to say.
But wait a second, there's still collegiate wrestling, or folk-style as it's sometimes known, also known as scholastic wrestling, and that is uniquely American.
What's the big difference? Well, as far as I know, it's more about pinning your opponent and controlling them on the ground than it is about tossing them explosively.
Sure, you still need to take someone down to get them to the ground and control them, but sending them sailing through the air doesn't get you any more points, so you might as well keep it simple and stick to pinning your opponent.
Got it? Great. Now put on this singlet and try not to feel too self-conscious.
American Rough and Tumble
Here's another martial art that is uniquely American..
Is that something to be proud of? Wait until you hear about it, then you decide for yourself.
See, back in the the wild west, things were kind of wild, and so were street fights since. Come to think of it, back then there weren't so many streets so a lot of these were just fights in a nearly-lawless countryside.
Anyway, you know how, in most martial arts, eye-gouging is illegal? Well, in this one, that is the main goal.
Also, the people who were really into this kind of fighting would sharpen their teeth with a file to better bite off noses, lips and genitals.
Wait, wait, relax, It doesn't exist anymore. It went out of style years ago when it got replaced by dueling with the bowie knife and the pistol.
American Mixed Martial Arts
Remember Brazilian vale tudo? Well, this is the sport that grew from that.
When the style vs. style idea got brought to the USA and put on pay-per-view television, it got a lot of attention.
Not only did it get more fighters from more different styles, it also got the attention of American politicians, who didn't like the idea of no-rules cage fights happening in the USA. So, in time, they added more rules and time limits and rounds and weight classes.
Eventually, it became a style itself, rather than a platform where different styles collide and this evolution happened for the most part in America.
Whenever you hear people say "I train UFC" this is what they're talking about.
Canadian Hockey Fighting
Alright, we've saved the best for last.
Again, this one might not qualify as a style of grappling, or even a style of martial arts per se, but we can't leave Canada out of the mix here, eh? I think not.
Besides, anyone who's seen a fight at a hockey game can see there's some technique involved. There's even a bit of grappling since one of your hands grabs ahold of your opponent and then the other one looks to pulverize his face as quickly and violently as possible.
For some crazy reason, the referees allow it to happen and only break a fight up once one person falls down. So, that's grappling right? Sure.
Here, put on these skates, this jersey, and get out there.
Other Articles in This Series
This is the fourth in a series of 5 articles in our Grappling Around the World Series.  Here are the other articles that you may have missed
About the Author: Jeff Meszaros is a blackbelt in Brazilian Jiu-Jitsu and also has black belts in taekwondo and hapkido as well as a brown belt in judo.  He is also a frequent contributor to Grapplearts.com
Easiest Way to Learn BJJ: Grapplearts has developed a free instructional app for Apple and Android phones and tablets.  This app will give you a simple way to learn Brazilian Jiu-Jitsu as fast as you can. Click here for more information about the Roadmap for BJJ instructional app.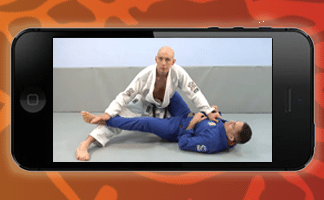 Comments ( )