The omoplata armlock is one of the heavy hitters in the jiu-jitsu arsenal. It's a very effective submission in its own right, but it also sets up many other submissions and can be used to sweep an opponent.
Here's a 3 1/2 minute video breakdown of a high percentage omoplata entry from Spider Guard.
Specifically this is an omoplata entry from the 'leg lasso' variation of Spider Guard, and my friends Elliott Bayev and Ostap Manastyrski (who really understand the BJJ game) share some important details about the leg lasso position too.
This exact technique is being used a LOT in competition today. In fact Clark Gracie has showed me the same entry, and if multiple high level competitors are showing you the same technique then it probably means that you should probably pay at least a little bit of attention to this technique too!
Enjoy this video. Tap someone out with omoplata for me, OK?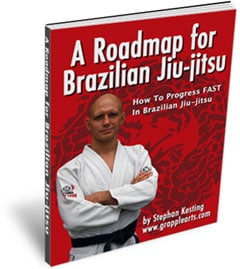 P.S. To receive BJJ tips, tricks, and techniques, and also to download my book 'The Roadmap for BJJ', sign up for the Grapplearts BJJ Newsletter.  It's all 100% free and you can unsubscribe with a simple click at any point.
Click here for more info about that newsletter and book.
Comments ( )