The de la Riva ankle lock is the holy grail of open guard leglocking.  It has been pursued by many, but mastered by few.
It's a super effective, IBJJF legal submission from the de la Riva open guard developed by BJJ phenom and 12 time world champion Caio Terra (hence it also being known as the 'Caio Terra anklelock.')
So why is it so hard for many people to learn?  It's not that it requires crazy flexibility or insane strength.  No, instead there are some critical details that you have to get right for it to work.
Get all the details right and the guy will be tapping before he hits the ground.  Get the angle of his foot wrong, or mess up on the positioning of your leg and you'll blow the whole technique.
The de la Riva anklelock uses a very different control position from most of the other leglock control positions (click here to get a free PDF breaking down all 12 positions used in modern leglocking). Instead of entangling his leg to immobilise it you apply the ankle lock and block the forward motion of his leg with your hamstring.
Anyway, here to help you develop this unique leglock (or just to educate you on how to avoid it) is a step by step breakdown of the submission by Rob Biernacki with whom I created The No Gi de la Riva Formula.
If you want to see how quickly this leglock comes on then watch Rob's match in which he hits the de la Riva anklelock in the first minute of a real match.
There, I hope you found that informative and useful.
Caio Terra has a saying that 'Technique conquers all", and this is certainly 110% true for the ankle lock from de la Riva Guard, regardless of whether you use it with or without the gi!
More No Gi de la Riva Guard
If you're looking to hone your de la Riva guard you should check out The No Gi de la Riva Guard Formula which gives you a step-by-step formula for fixing your open guard.
Now on my site it's available in online streaming, DVD, and app based formats, which is great because some different people prefer one over the other.
To check it out as an online streaming or DVD instructional click here.
Or to check it out in app format first grab the FREE Grapplearts BJJ Master App for your iPhone or Android phone.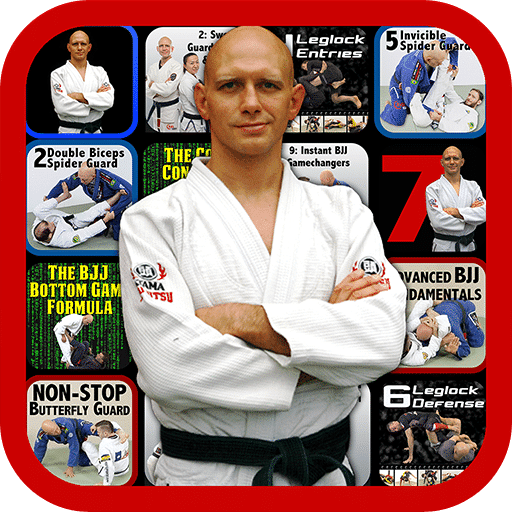 Once you've downloaded the app  you can check out and preview a TON of material for free, including the No Gi de la Riva Guard.
Click on the appropriate button below to get started and download the Master App for free to your phone or tablet. Then preview the No Gi de la Riva module within the app and maybe add it to your collection!
Comments ( )