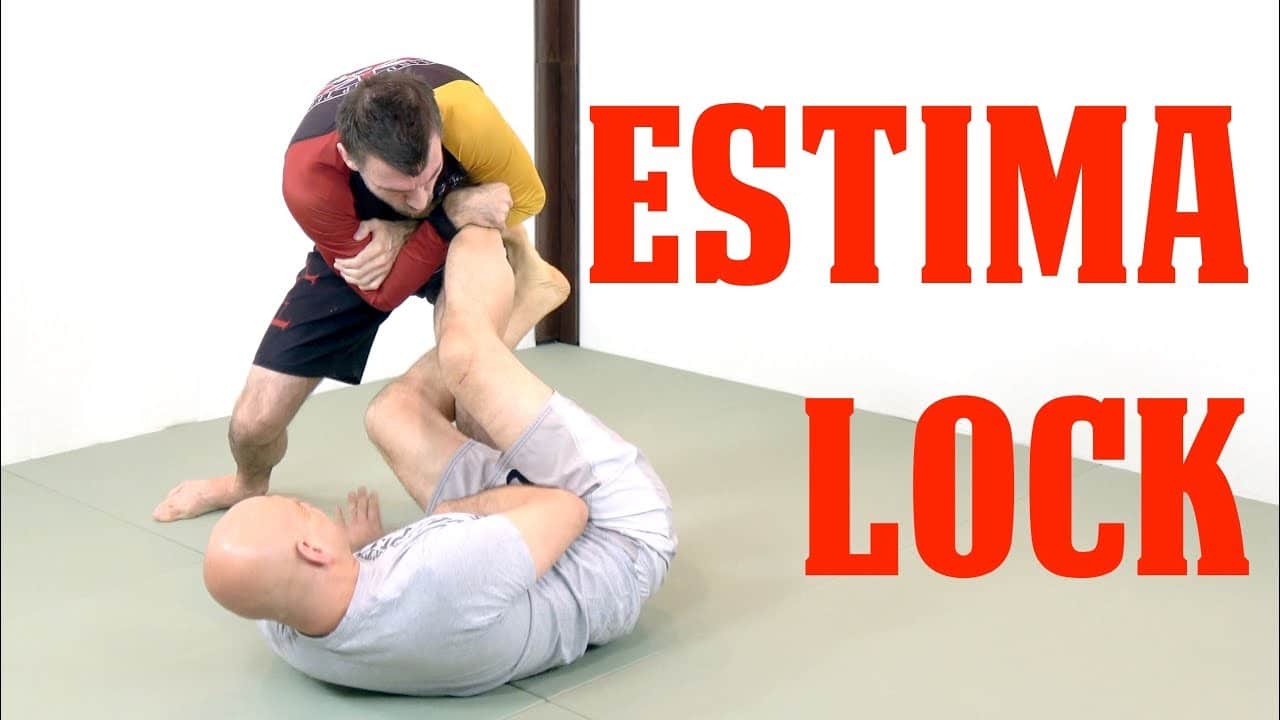 The Estima Lock is a footlock attack you can use against the open guard, especially modern forms of guard like the reverse de la riva, inverted guard, and others.
You can basically use it any time your opponent uses a side kick style foot position against your chest or belly.
And – BOOM – it comes on super quickly so he better tap fast!
It was developed by two brothers, Victor and Braulio Estima, and then used by Victor at ADCC 2009 against a quality opponent (scroll down for video footage of that).
It's a little bit different from most other leglocks because you can often apply it while remaining on your feet – you don't necessarily have to drop down into a leg entanglement position.
Considered to be a form of the toehold by the IBJJF this lock is legal for brown belts and up.
(That being said, there have been a lot of anecdotal reports of over-eager referees penalising or even disqualifying competitors using the Estima lock, considering it to be a form of the highly illegal heel hook. So use it with caution!)
But even if you're not yet a brown belt, and even if you never intend to use this lock yourself, you should still become familiar with it!
That's because someone might try to use it on you, and the best way to defend against a certain technique is to first learn how to do it yourself.
Here's Rob Biernacki of Modern Leglock Formula fame breaking down how to do the Estima lock for you!
Check it out:
Some Examples of the Estima Lock in Competition
If you're interested in understanding this footlock then it's well worth studying how high level competitors apply it in actual competition.
If you study the videos below you'll soon start seeing how they bide their time until their opponent gives them the trigger position – the side kick in the belly – and then they jump on the footlock HARD!
ADCC 2009
Braulio Estima vs Rafael Lovato Jr
Estima Lock at c. 6 seconds
2012 British Open
Clark Gracie vs Victor Estima, Black Belt Finals
Estima Lock at c. 3:10
World Pro 2013
Vitor Estima vs Alan do Nascimeno
Estima Lock at c. 2:34
No Gi Brazilian Nationals 2015
Unknown Competitors in the Adult Brown Belt Featherweight Division
Estima Lock at c. 3:20
NAGA 2015
Brandon McCaghren, Brown Belt Division
Estima Lock at c. 16 seconds
2015 Pan Ams
Edwin Najmi vs. Daniel Almodovar, Brown Belt Lightweight division.
Estima Lock at c. 25 seconds
2015 IBJJ European Championship
Unknown Competitors
Estima Lock at c. 45 seconds
More Leglocks
Click here for an incredibly detailed deep dive into the modern approach to leg locking
Comments ( )