Learning the swinging Kimura backtake is important for at least two reasons…
First, it's a legitimate way of defending side control and taking the back that sets up lots of other upper and lower body attacks as well.
Secondly, it teaches you that the Kimura is a giant handle you can use to move your opponent around as well as move yourself around your opponent. This is especially important in the fast and slippery world of no gi training where friendly handles are rare.
Even if you never end up hitting this move from half guard, drilling it from here might be the missing link you need to start hitting rolling Kimura guard passes or Kimura-based backtakes from the top position.
Here's how to use this handle to take the back from half guard…
Scroll down for a quick visual review of some of the most important material covered in the video…
Steps for the Swinging Kimura from Half Guard
1, Start in half guard, with your bottom (right) leg hooking your opponent's right leg.  Grab his left wrist with your right hand.
2, Reach over his trapped left hand with your top (left) arm and bring your left hand towards your own chest.
3, Link your hands into the Kimura grip with your left hand grasping your own right wrist.
4, Extend both arms and push your grips into his belly to make space.
5, Move your hips backwards and away from your opponent while unhooking your bottom leg and releasing the half guard.
6, Push with your top (right) arm and pull with your bottom (left) arm while swinging your legs in a big counterclockwise circle (see the swinging drill below).
7, Tilt your opponent onto his left hip, slide your left knee under his body and start to bring your right heel over his body.
8, Using your arms and your right leg roll your opponent towards his right hip, which allows you to insert your bottom (left) leg at the hip.
9, From the back you can continue attacking with the Kimura grip, or switch to a seatbelt grip and pursue the rear naked choke finish.
How to Drill the Swinging Kimura Motion
The body mechanics of the swinging Kimura can be a lot easier to master if you've worked them in isolation first, without all the fancy gripping and leg movement.
Here's a simple drill I've used to coax people into being able to use this technique MUCH faster…
Start on your back, grasping the ankles of someone standing over your.  Note that you could do this same drill using a pillar or any other stationary object which you can grip with both hands.
Swing your legs to your left while pushing with your top (right) arm and pulling with your bottom (left) arm.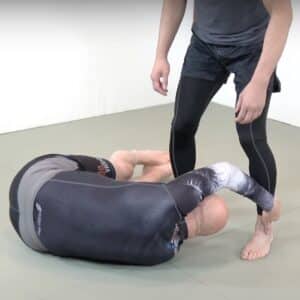 At the apex of the swing change directions and swing your legs to your right while pushing with your top (left) arm and pulling with your bottom (right) arm.
This is the body mechanic that you'll be using in stage 6 of the technique above.
How to Free Your Hips
A common counter a savvy opponent will use when he sees you setting this up is to clamp down HARD on your hip.  This prevents you from being able to back out, make room, and start the swinging motion that takes you to the other guy's back.
Here's how to counter that…
The man on top is worried by you having a Kimura grip on his left arm and is thus clamping down on your hip with his right arm, immobilising it.
Maintaining your half guard hook with your bottom (right) leg, insert a butterfly hook under his knee with your top (left) leg.
Release the half guard hook and lift him with your butterfly hook as if you're trying to sweep him.
The sweep itself is unlikely to work, but it'll create separation between his arm and the back of your hip, allowing you to immediately initiate the swinging Kimura attack.
Related Material on Grapplearts
The Kimura, much like any other technique, is usually taught as a series of steps. First do this…  Then move your hand here… Then adjust your body this way… Then finish by doing this other thing.
It can be a lot to remember, but it's always easier to remember all the steps and adjustments if you understand WHY you're doing them.
Click here to check out this article and video to make your Kimura armlock twice as powerful.
---
How to Finish the Rear Naked Choke
This article is about the details you'll need to finish the Rear Naked Choke against quality opponents.  This submission, also called the RNC or the Lion Killer, is one of the most dominant, powerful and important chokes in BJJ, MMA and No Gi Grappling.
If you get on your opponent's back, especially in a no gi situation, the Rear Naked Choke should be your number one finisher.
Click here to get much better at applying and finishing the Rear Naked Choke.
---
Here are 3 tweaks that you can implement immediately to make your Kimura armlock MUCH more effective right away!
Add these modifications to your Kimura and you'll find that you tap out a LOT more people.
Click here to improve your Kimura submission.
Comments ( )