This transition from butterfly guard to triangle choke is one of my new favourite techniques.
I learned it from BJJ black belt Rob Biernacki and it starts sitting up in the butterfly guard, and fighting for the powerful two-on-one grip.  In the two-on-one I use both of my own hands to control one of my opponents arms which then isolates that side of his body.
The next step is to kick out one of his knees.  This creates a dilemma for my opponent.
This creates a dilemna for your opponent.
The word dilemna is defined as "a situation in which a difficult choice has to be made between two or more alternatives, especially equally undesirable ones."
So you're giving him two bad choices here.
Does he…
A) fall flat on his face and allow me to come to the top?
or
B) plant a hand on the ground which then gives me an easy route to the triangle choke?
Most experienced opponents will react with option B, so you're going to get a lot of triangle chokes.
I particularly like the growing look of horror on my opponent's face as he realises that he's been set up and the triangle choke is now inevitable!
This entire technique is broken down in the video below!
P.S. Do you have a smartphone or a tablet? Android or iOS, it doesn't matter…
Because if you do then you can get 7 and a Half Hours of Free black belt BJJ instruction!
I've just released my brand new Grapplearts BJJ Master App for iPhone, iPad, and Android devices.
This FREE BJJ app includes…
457 minutes (7 1/2 hours) of free video instruction
123 free videos
Both gi and no-gi material
And you can either stream or download the videos to your mobile device so you have total control over your app size.
In addition to the free content it's also the only way to get the groundbreaking and long-anticipated Modern Leglock Formula in app form.
There's a tremendous amount of value contained in the free version of this app even if you never upgrade to any of the optional paid content!
Here's a page with a whole lot more info about this app…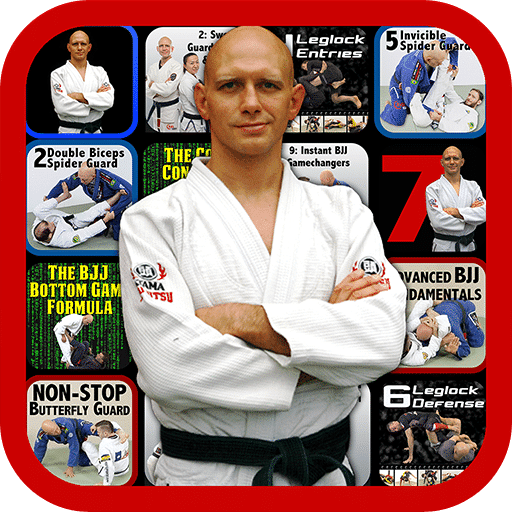 Or you can click on the appropriate button below to download  'the Grapplearts BJJ Master App' for free.
Comments ( )